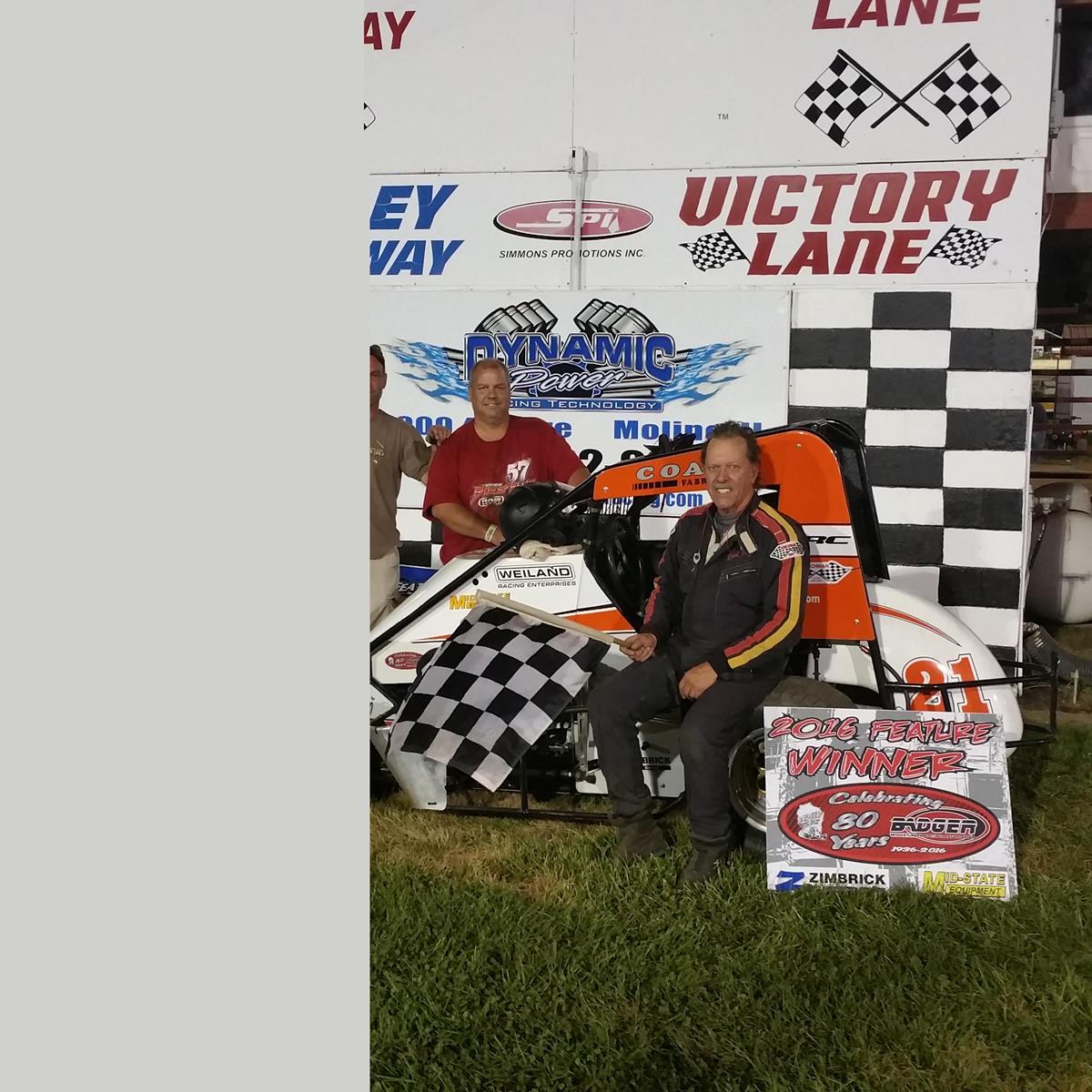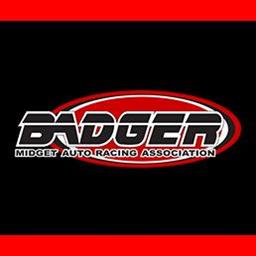 9/3/2016
Badger Midget Auto Racing Association
---
"Farley victory gives Mayhew two straight Badger Midget wins"
Farley, Iowa., September 2 ---Kurt Mayhew won the 25-lap Mid-State Equipment/Zimbrick Chevrolet of Sun Prairie Badger Midget Racing Series feature, Friday Night at Farley Speedway. The event, was part of the multi-day 39th annual "Yankee Dirt Track Classic", and the first at the track for Badger since August 21, 2004.
At the start of the event Mayhew passed five cars from his sixth place starting position to lead the field off Turn 2 on the opening lap. A three-car accident on the fifth lap erased Mayhew's two-second advantage.
Mayhew continued to lead with an intense four-car battle for second place behind the leader. Robbie Ray closed to within a car length of Mayhew with ten laps complete. One lap later Ray assumed the top position. Ray slowed while leading with a flat tire on Lap 17. At the same moment during the caution, the fourth and fifth place cars of Brandon Waelti and Aaron Schuck stopped in the work area to replace flat right rear tires. Waelti, Schuck, and Ray rejoined the tail of the field with new tires.
Mayhew again led on the restart over Derek Childs and Ken Hanson. Childs slowed with a flat tire with five laps remaining bunching up the field. Mayhew led Hanson on the restart followed by the trio of Ray, Waelti and Schuck all who pitted for new right rear tires three laps earlier.
Mayhew maintained a steady pace with positions behind him changing several times before Ray took over second place, with two laps remaining. Mayhew driving his No. 21k DRC/Honda finished a one car length ahead of Ray. Schuck, Waelti, and Hanson completed the top five.
"I was hanging on the final few laps hoping my tires would hold out, there was a major vibration but we made it to the finish line" commented Mayhew after his second straight series victory in five days.
Next for Badger will be the Angell Park Speedway season finale on Sunday Night Sept. 4. The "Kevin Doty Classic" will also feature the Speedway Motors POWRi North Outlaw Micro/ Badger 600 Micro Series presented by My Race Pass co-sanctioned event, and the Meyer Valves & Vacs Wisconsin Wingeless Sprint Series.
SUMMARY
25-lap Feature: 1. Kurt Mayhew; 2. Robbie Ray; 3. Aaron Schuck; 4. Brandon Waelti; 5. Ken Hanson; 6. Mike Stroik; 7. Derek Childs; 8. Jeff Zelinski; 9. Buddy Luebke; 10. Denny Smith; 11. Randy Reed; 12. Don Bigelow; 13. Kyle Koch; 14. Laura Smith.
8-lap Heat Race Winners: Zelinski, Ray.
Cars Present: 14 Feature Lap Leaders: Mayhew 1-11 Ray 12-17, Mayhew 18-25.
---
Article Credit: Bryan Gapinski
Back to News