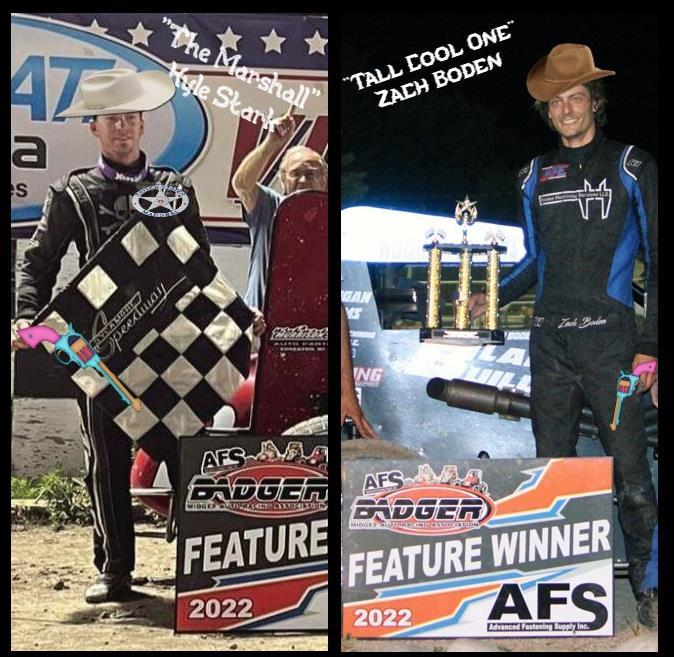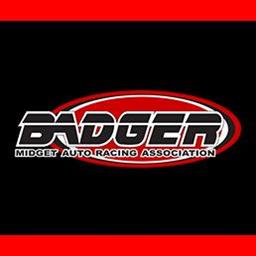 9/8/2022
Badger Midget Auto Racing Association
---
Shootout On Shadyhill
Sun Prairie, WI, September 8, 2022– Wyatt Earp, Jesse James, Butch Cassidy, and Doc Holliday are just a few of the names that come to mind when the words "ole fashion shootout" are mentioned. Well, now two more can be added to the list, Kyle Stark, and Zach Boden.
While these two will not have their particular showdown at "High Noon" outside the saloon, they will meet at some point in the evening, Saturday, September 17th, at Shadyhill Speedway to settle the score.
Bad photoshopping aside, the 2022 Advanced Fastening Supply Badger Midget Championship will be at stake, at the final race of the season.
After 30 cars signed in for the penultimate round of 2022 this past Sunday at Angell Park Speedway, disappointment was the word of the day after the race was canceled for wet grounds from the previous day's rain.
"The Prarie's" cancellation now assures that the Badger Midgets will decide who wears the season crown in the Hoosier State, specifically, Medaryville, Indiana.
Kyle Stark takes the Harlin Kittleson-owned #2 into Shadyhill Speedway with a 44-point lead over Zach Boden and his #51 car. Now while 44 points may seem like a lot to overcome, there are over 110 points available in a single race. Ironically the "bullets" powering both cars are Kippley Performance Engineering Mazdas. And to take that a step further, Boden has some extra ammo driving a "Bullet' by Spike chassis, while Stark just has a Spike chassis, without the extra "Bullet".
Stark, the 2021 Badger Rookie of the year has come from an interesting background to get to this point. While many start in karts, then go micro racing, and up to Midgets, "Marshall" Stark comes from the world of Mini Stocks/Pro Compacts. He was the Jefferson Speedway 2011 champion in that division and has won numerous races on both dirt and pavement. He still runs those cars today when his schedule allows, such as at Bristol Motor Speedway this past March where he finished 6th out of over 60 cars! In Badger, it only took him about a 1/3 of the 2021 season to figure out the mighty midget and has been upfront ever since. In his rookie season last year, he ended up 4th in championship points. This year he has notched his gun with his first two Badger victories at both Sycamore Speedway, and Dubuque Fairgrounds Speedway, where he clean swept both events.
Boden comes in with a more open-wheel background than his title challenger. He is a former Plymouth Dirt Track 600cc Micro Champion and has 18 wins in the former Badger 600 series. He was 3rd in points in his maiden Badger Midget campaign, which easily garnered him R.O.Y. honors for 2017. So far he has finished 2nd once, and 3rd twice in the final season standings, so he is not only consistent but a consistent threat. "The Tall Cool One" has visited victory lane twice this year, both at the aforementioned Plymouth Dirt Track. An interesting note is that Boden is a former driver of the H.M.K. Racing #2 that Stark currently drives. We'll just leave that one alone.
Saturday night, September 17th at Shadyhill Speedway. Don't miss the crowning of the 2022 champ for the longest-running, most historic Midget series on the planet, the A.F.S. Badger Midget Auto Racing Association.
Start times, and gate openings are to be announced soon.
Keep it here for more updates. As we get closer to the event, we will have more on some of the other stories going into the finale for 2022! You can also visit shadyhillspeedway.com for track information.
It's going to be a big night that Midget fans won't want to miss!
Special Note: We would like to extend a special invitation to any and all USAC Midwest Thunder teams to join us at Shadyhill. Feel free to make your weekend a doubleheader after running Circle City Raceway Friday the 16th in Indy, then joining us on Saturday in Medaryville!
advancedfasteningsupply.com
---
Article Credit: Craig Dori
Back to News