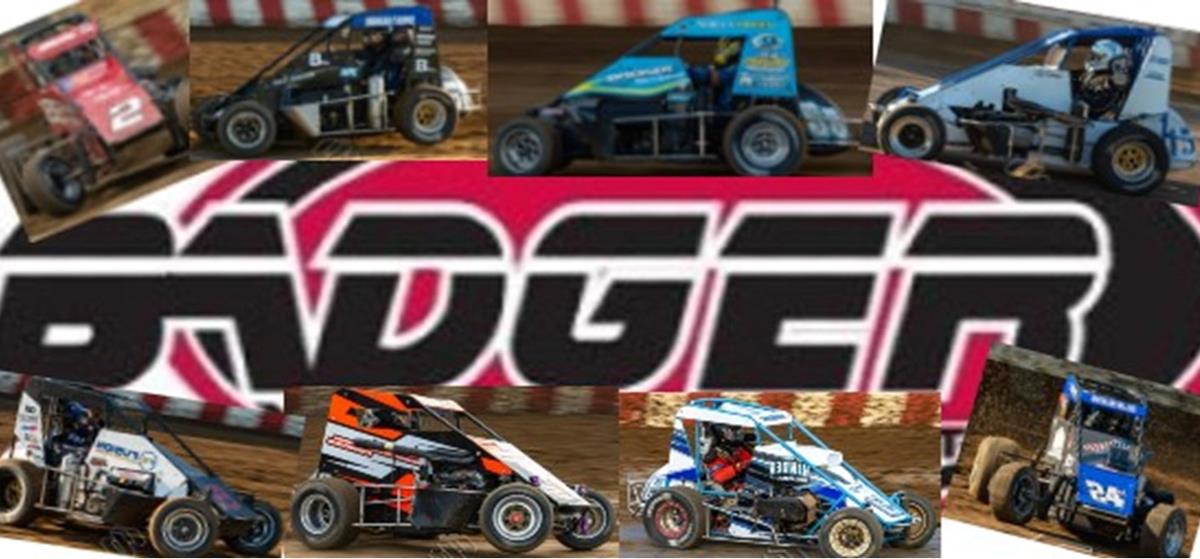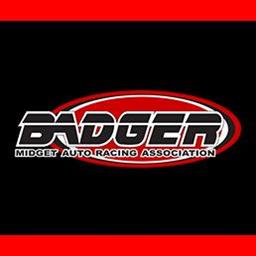 9/11/2022
Badger Midget Auto Racing Association
---
Badgers in the Hoosier State... Oh My!!
Sun Prairie, WI, September 11, 2022–
Points.
Some love running for points, and some don't. Some love hearing about the point race, others say just race because all I care about are tonight's results. Some folks want to be updated immediately after each race, while others switch off the television when announcers are screaming about the playoff possibilities right after the first race of the season. (no, badger does not have playoffs, or any other type of gimmick :)
Well, now it's the last race of the season. And we have a fantastic race for the 2022 Advanced Fastening Supply BADGER championship to be settled in one final battle at Shadyhill Speedway in Medaryville, IN. So that will make "Points" a default discussion before, and after the race on Saturday Sept. 17th.
If you're not up to date on the championship battle, please read the previous article to get up to speed. In that article, called Shootout on Shadyhill, we take a deep dive into the two gunslingers (Kyle Stark and Zach Boden) going for season gold!
This article will focus on what else is at stake for the 2022 standings, and some of the participants involved.
For those that just want the super brief summary, hera ya go:
3rd is locked in, 5th can pass 4th.
6th could pass 5th, but it will be very tough.
7th has a real shot at finishing 6th, and 8th could reasonably pass both to finish 6th.
And finally, 11th could jump into the top 10, and has a slight shot at reaching 9th.
Now a not as brief look at the players
The current standings:
Kyle Stark 1508
Zach Boden 1464
Todd Kluever 1197
R.J. Corson 1064
Aaron Muhle 1012
Mike Stroik 914
Kevin Douglas 879
Adam Taylor 876
Daltyn England 824
Derek Doerr 807
Note: 116 points are the maximum number of points available per race.
The top 10 is the place to be, because that's where the $ is thanks to our huge contingent of sponsors…. Which we hope you will kindly check out here: http://www.bmara.com/sponsors/
Kyle Stark (car #2): Stark, the 2021 Badger Rookie of the year has come from an interesting background to get to this point. While many start in karts, then go micro racing, and up to Midgets, "Marshall" Stark comes from the world of Mini Stocks/Pro Compacts. He was the Jefferson Speedway 2011 champion in that division, and has won numerous races on both dirt and pavement. He still runs those cars today when his schedule allows, such as at Bristol Motor Speedway this past March where he finished 6th out of over 60 cars! In Badger, it only took him about a 1/3 of the 2021 season to figure out the mighty midget, and has been up front ever since. In his rookie season last year, he ended up 4th in championship points. This year he has notched his gun with his first two Badger victories at both Sycamore Speedway, and Dubuque Fairgrounds Speedway, where he swept both events. (taken from Shootout on Shadyhill article) Stark drives a Spike chassis, with a Kippley Performance Mazda.
Zach Boden (car #51): Boden comes in with a more open wheel background than his title challenger. He is a former Plymouth Dirt Track 600cc Micro Champion, and has 18 wins in the former Badger 600 series. He was 3rd in points in his maiden Badger Midget campaign, which easily garnered him R.O.Y. honors for 2017. So far he has finished 2nd once, and 3rd twice in the final season standings, so he is not only consistent, but a consistent threat. "The Tall Cool One" has visited victory lane twice this year, both at the aforementioned Plymouth Dirt Track. An interesting note is that Boden is a former driver of the H.M.K. Racing #2 that Stark currently drives. We'll just leave that one alone.(taken from Shootout on Shady Hill article) Boden drives a Bullet by Spike Chassis, with a Kippley Performance Mazda engine.
Todd Kluever (car #55): Todd's season consists of 1- win (Sycamore), 10- top 5's, and 12- top 10's. Those numbers have locked him into the 3rd spot. He led the points through much of the season, but had pretty much back to back bad mechanical luck, which caused him to miss some races. He is another with a VERY interesting background on his way to racing in the BADGER Midget series. A far more talented/professional writer can tell you all about it right here: Speed Sport News Kluever drives a Bullet by Spike chassis, with a Kippley Performance Mazda engine.
R.J.Corson (car #15c): A former BADGER Rookie of the Year, R.J. has put together a great and consistent season with 4- top 5's and 15- top 10's (tied for 2nd in top 10 finishes). R.J. is a third generation racer from a family of scrappy racers. Now the "scrappy" part doesn't mean they fight everyone (though that has happened a few times back in the day), it just means that this tight budget operation has a habit of always making it to the racetrack no matter the odds. R.J. 's Grandfather (Bob) was longtime UARA/USAC driver then car owner (won a UARA championship as a car owner), and his father (Rich) is a many time winner over decades of racing midgets. To give you an idea of how long the Corsons have been around, Grandfather Bob was the winning car owner of the final race at Soldiers Field in1968 (and he raced for many years before that). Father Rich, a 2 time winner of the annual Rumble in Ft. Wayne race, hung up his goggles in 2018. Corson drives a Ripper chassis, with an MWR Chevy engine.
Aaron Muhle (car #24m): Another on the list of unorthodox paths to Midget racing, Muhle comes from Legend cars, then Sport Modifieds, to Modifieds before getting the Midget bug. He is also a former Modified winner at Beaver Dam Raceway. Aaron goes into Shadyhill with 7- top 5's, and 12- top 10;s, and has missed only one main event start all year. Muhle drives a Spike chassis, with a Kippley Performance Mazda engine.
Mike Stroik (car #9s): Mike is another that does a whole lot, with a little. Including building his own engines. He is so dedicated to this, that he often shows up as the driver, owner, crew chief, tow vehicle driver, and entire crew, all in one. A truly dedicated person to the sport. Mike is a former winner at the track just outside of Green Bay, Luxemburg Speedway, and is known as one of the best slick track drivers in the series. He has 4- top 5's and 11- top 10's going into the final race. Stroik drives a Stealth chassis, with a Stroik built Chevy.
Kevin Douglas (5k): Kevin is a former Lightning Sprint racer who won races at their home track, Wilmot Raceway. This black belt has been racing now with BADGER for the last few years, and has improved greatly. This year, he has hit his stride, by not only competing for wins, but has racked up 2- top 5's, and 11- top 10's. He continues to aim high, as his all-time favorite midget driver is Dan Boorse (note: mine too). Douglas drives a Stealth chassis, with a Honda engine.
Adam Taylor (5x): The winningest driver on the tour this year. Adam has been totally dominant at times, and has been a threat every night he is there. He has picked up four victories this year with two at Sycamore Speedway, and two at Angell Park… Including the innaugural K.O. Klassic! To go with those accomplishments, he has grabbed 3 second place finishes as well. All in all, Taylor has 4- wins, and 7- top 5's for the season. So you may ask why he's not leading points? The answer is simple. Taylor and his car owner Aaron Jones were only slated to run a partial schedule in 2022. Combine that with a couple mechanical issues, and that places them in eighth so far. Adam was a succesful D2 Midget racer, while running a family operated team (even running a close second at Wilmot Raceway in 2020 with their D2 against the badger boys), he has become a "top guy" worthy of top equipment since earning a ride in the 5x car. Taylor drives a Spike chassis, with a Jones Honda.
Daltyn England (car #19e) Daltyn was much higher in the points early on, but has fallen due to mechanical issues with a development Nissan engine. He has since stayed near his Springfield, IL home doing very well with his D2 car. We don't expect Daltyn, but ya never know. We do expect he will be back next year with all the bugs worked out of what many think will be a powerful new engine combination.
Derek Doerr (car 20d): Unfortunetely Derek will most likely not be there either. Although he has been actively looking for a ride to keep his top 10 in place. The family team was hoping for just "one more race""on an engine that had MANY miles on it. Unfortunately, it gave up the ghost at the last race. So if you know anyone who needs a good shoe for one night, give em' a call. Derek picked up his first BADGER win this season in a recent race at Wilmot Raceway. They had missed some earlier races due to a crash, but rebounded to make the top 10. If you can't supply Derek with a ride, you can still make him happy by donating to his favorite cause, animals. He is an avid supporter of Fetch Foster and Rescue. It's a great organization that Derek promotes tirelessly. Help them out if you can.
Kyle Koch (car #59): Kyle is the son of BADGER royalty, Randy Koch. Last year's 9th place finisher in points, and his grandfather are "regulars" at every BADGER race. He has also finished 10th in points on 3 different occasions. He has a real shot of getting back into the top 10 again this year at the final race, as he is only 55 points out of 10th. This year he has acquired one- top 5, and 2 two- top 10's. Koch drives a Triple X chassis, with a Kippley Performance Mazda engine.
There you have the story of the points battles going into Shadyhill. There are other stories that we will touch on before the big race, so stay tuned right here for that. We even have a few "local heroes" for a BADGER race in Indiana that have a VERY short commute to Shadyhill.
Look for more details and times right here, or go to Shadyhill Speedway for more information.
Racing options are getting scarce in the midwest, so we hope you come out to support not only the finest Midget racing in the country, but the longest running, most historic Midget sanction on the planet, BADGER Midgets!
Special Note: MWR Race Engines has put up a bonus for the 1st and 2nd highest finishing USAC Midwest Thunder regular/participants. The highest finisher will receive $100, and the 2nd highest finisher will receive $50! Feel free to make your weekend a double header after running Circle City Raceway Friday the 16th in Indy, then joining us on Saturday in Medaryville!
Advanced Fastening Supply
Badger Midgets
Shadyhill Speedway
USAC Midwest Thunder Midgets
MWR Race Engines
Casey Bollig Photography
---
Article Credit: Craig Dori
Article Media
Back to News