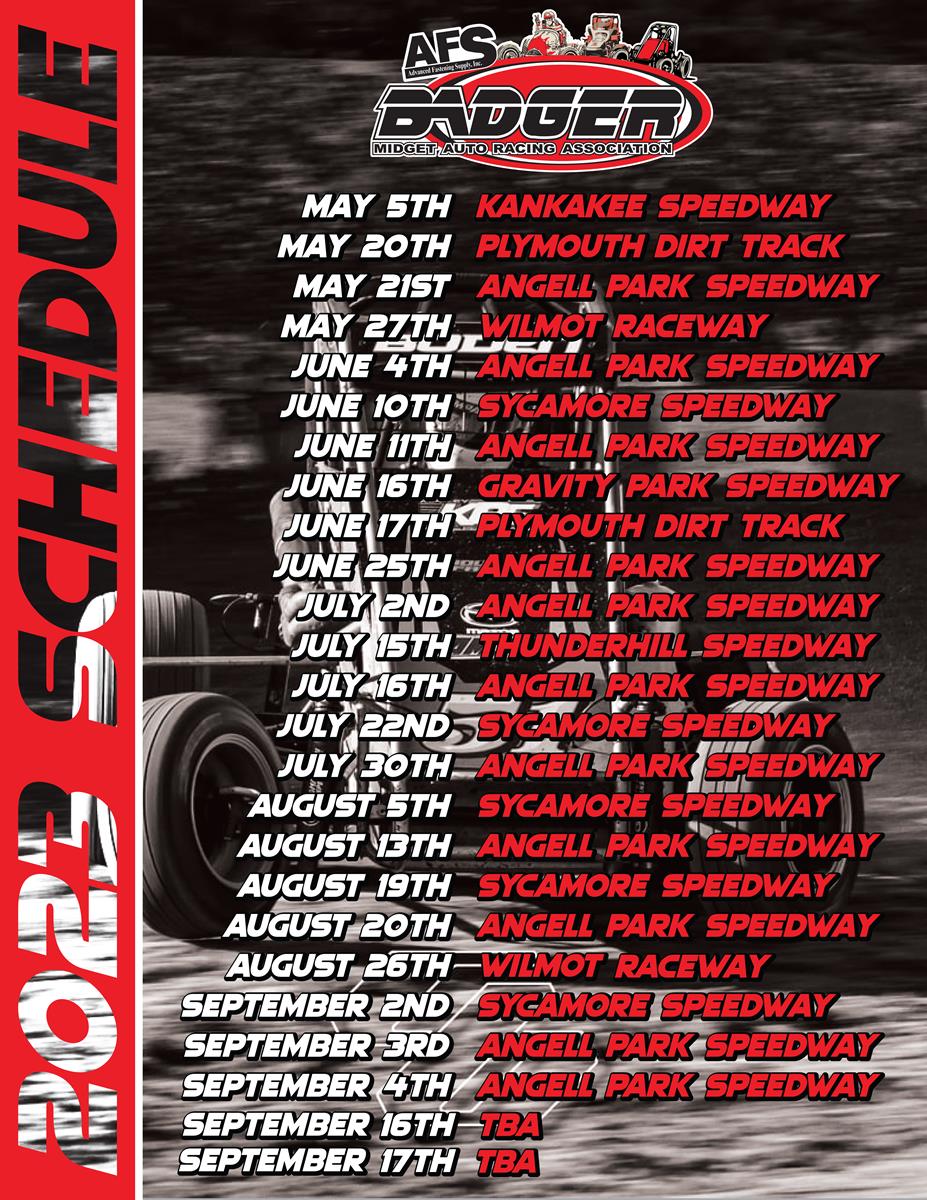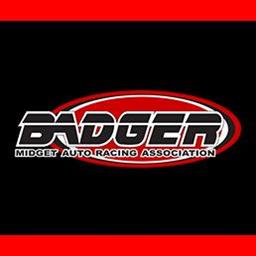 1/7/2023
Badger Midget Auto Racing Association
---
Diverse Schedule Highlights 2023 Badger Midget Series Campaign
(Sun Prairie, WI - January 7, 2023) – The 2023 Badger Midget Auto Racing Association schedule has been released and includes a diverse list of seven different racing venues. The season will consist of 23 events on tracks from one-sixth mile to a three-eighths mile in size and will take place in two different states including Wisconsin and Illinois.
The Badger Midgets will open their 2023 campaign at the one-third mile Kankakee Speedway in Kankakee, IL on Friday, May 5th in a co-sanctioned event with the newly formed Illinois-based MARA Midget Series. Kankakee Speedway, a former venue for the UARA Midget Series in the 1980s, will play host to the Badger Midgets for the very first time.
The month of May brings the series to three additional tracks all of which have become staples on the Badger Midget series schedule. Plymouth Dirt Track a one-third mile in Plymouth, WI, and Wilmot Raceway a three-eighths mile in Wilmot, WI will both play host to two events each. The first for Plymouth will be on May 20th with Wilmot Raceway closing out the month on Saturday, May 27th. The second event at Wilmot Raceway will be on the 26th of August and will play host to the annual "Salute to Harry Turner" event.
Hosting the Badger Midgets since 1946, Angell Park Speedway a one-third mile in Sun Prairie, WI will continue the tradition of anchoring the series with 11 events in 2023. The first will take place on Sunday, May 21 with the final taking place on Monday, September 4th for a rare weekday special to conclude the now two-day Fireman's Nationals event.
Sycamore Speedway in Maple Park, IL will again play host to the Badger Midgets in Illinois and will bring five events to the schedule beginning on June 10th. Sycamore Speedway will host the annual Franklin B Alexander Memorial race on September 2nd which will be the final race of the season at the facility.
The series will return to Gravity Park in Chilton, WI for 2023 on Friday, June 16 in a doubleheader weekend with Plymouth rounding out the weekend on June 17th. On July 15th, the Badger Midgets will make a maiden voyage to the Thunderhill Speedway in Menomonie, WI. Thunderhill Speedway is a unique one-sixth mile bullring just an hour East of the Minneapolis/St Paul, Minnesota market and will be the smallest track on the schedule.
For more information on the Badger Midget Auto Racing Association visit BMARA.com or the BMARA Racing Facebook Page.
2023 Badger Midget Series Schedule
May
*5 - Kankakee Speedway, Kankakee, IL
20 - Plymouth Dirt Track, Plymouth, WI
21 - Angell Park Speedway, Sun Prairie, WI
27 - Wilmot Raceway, Wilmot, WI
June
4 - Angell Park Speedway, Sun Prairie, WI
*10 - Sycamore Speedway, Maple Park, IL
11 - Angell Park Speedway, Sun Prairie, WI
16 - Gravity Park Speedway, Chilton, WI
17 - Plymouth Dirt Track, Plymouth, WI
25 - Angell Park Speedway, Sun Prairie, WI
July
2 - Angell Park Speedway, Sun Prairie, WI
15 - Thunder Hill Speedway, Menomonie, WI
16 - Angell Park Speedway, Sun Prairie, WI
*22 - Sycamore Speedway, Maple Park, IL
30 - Angell Park Speedway, Sun Prairie, WI
August
*5 - Sycamore Speedway, Maple Park, IL
13 - Angell Park Speedway, Sun Prairie, WI
*19 - Sycamore Speedway, Maple Park, IL
20 - Angell Park Speedway, Sun Prairie, WI
26 - Wilmot Raceway, Wilmot, WI
September
*2 - Sycamore Speedway, Maple Park, IL
3 - Angell Park Speedway, Sun Prairie, WI
4 - Angell Park Speedway, Sun Prairie, WI (Labor Day)
Co-sanctioned with MARA Midgets
---
Article Credit: Droz Andrews
Article Media
Back to News