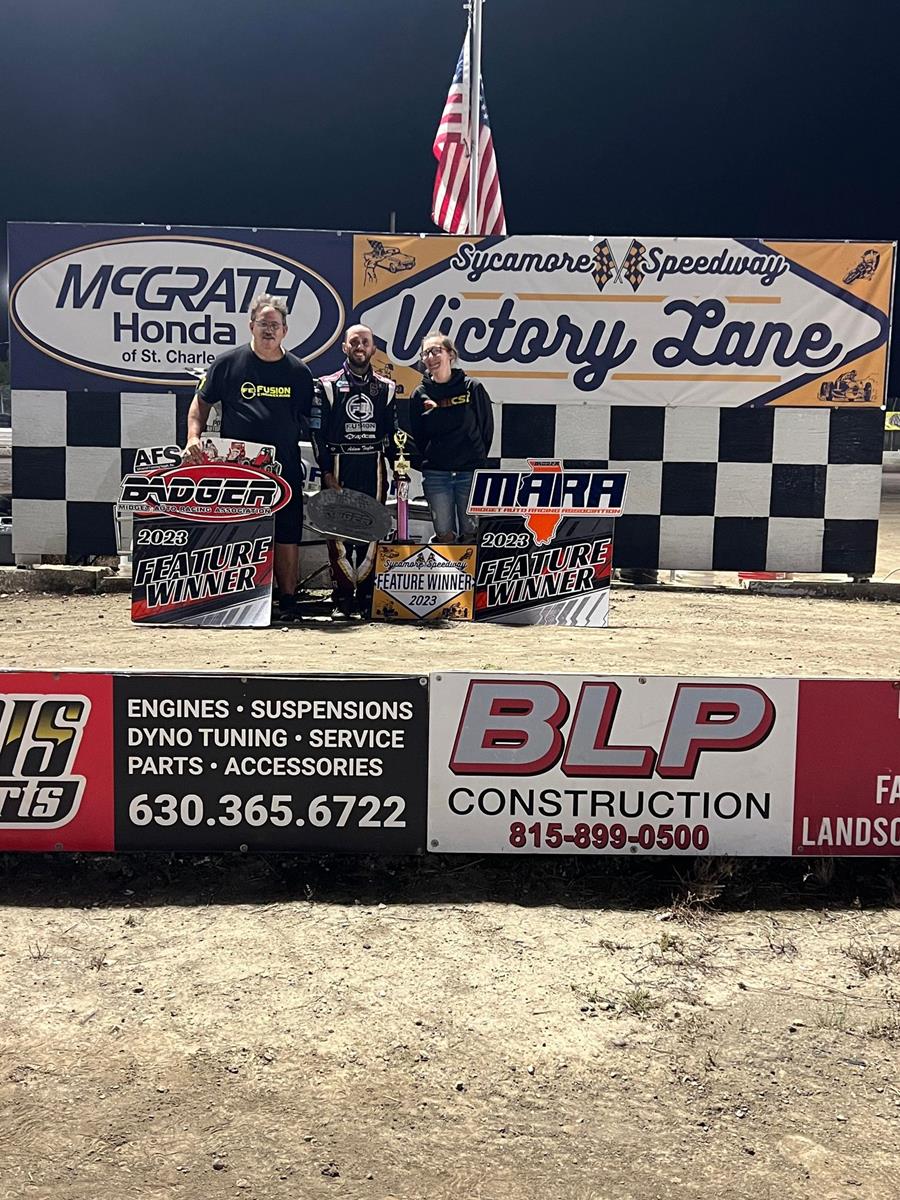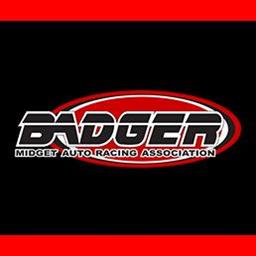 8/20/2023
Badger Midget Auto Racing Association
---
Taylor Takes Sixth Feature Win of the Season at Sycamore
Sycamore, IL (August 19th, 2023) - Adam Taylor drove away from the field to pick up his sixth feature win of the season with the Advanced Fastening Supply Badger Midgets at Sycamore Speedway on Saturday night.
Twenty-six cars signed in for a great night of racing with points leader Todd Kluever leading the way, with second place Adam Taylor, only 22 points behind him. Other winning drivers such as Kyle Stark, Parker Jones, and Jace Sparks all made the trip to the action-packed 1/3 mile.
Due to a technical issue, heat races were decided by the pill draw at the start of the night. AutoMeter Heat 1 witnessed Stark pick up the win while Kluever and Sparks came in second and third respectively. Simpson Race Products and VMS Rod Ends Heat 2 was won by Daltyn England with second going to Jones and third to Aaron Schuck. Behling Heat 3 went to Taylor while Andy Baugh and Dave Collins Jr rounded out the podium.
The Advanced Fastening Supply A-Main rolled out with Taylor on the pole and Stark starting alongside him. Taylor jumped out to a good start but would quickly get pulled back as the yellow would come out for Sparks and Robby Wirth as the two came together. The green flew once again and Taylor didn't look back, running away with the race lead. A three car battle between Schuck, Brian Peterson, and Kluever heated up as they swapped the third spot a handful of times. The yellow flew once again as Tommy Colburn spun in turn two bringing out another yellow. The green would fly once again as Stark would be in swinging distance of Taylor, setting up a move for the lead before John Smith rolled in turns three and four, bringing out the red flag. Smith was okay as the field prepared to refire. Taylor, Stark, and Kluever were the top three on the restart as the green came back out. Taylor once again fired off well as Stark and Kluever battled for the second place spot. Jones made his way past England for fourth with an impressive high line move. Taylor went on his way, running from the field to pick up his sixth feature win of the season. Stark came home second with Kluever, Jones and England rounding out the top five.
The Advanced Fastening Supply Badger Midgets return to Angell Park Speedway on August 20th, for the CornFest event. The series will then makes its return trip to Wilmot Raceway on Saturday, August 26th.
To learn more about the Advanced Fastening Supply Badger Midget Auto Racing Association visit BMARA.com or the BMARA Racing Facebook Page today.
Summary
26 Entries
Lap Leaders: Adam Taylor 1-25
A - Feature 25 Laps | Advanced Fastening Supply
5X-Adam Taylor[1]; 2. 2-Kyle Stark[2]; 3. 55-Todd Kluever[6]; 4. 41-Parker Jones[5]; 5. 19E-Daltyn England[9]; 6. 7-Brian Peterson[3]; 7. 18-Tyler Roth[7]; 8. 20-Cody Weisensel[10]; 9. 9S-Mike Stroik[16]; 10. 5K-Kevin Douglas[13]; 11. 40JR-Dave Collins Jr[8]; 12. 53M-Miles Doherty[22]; 13. 59-Kyle Koch[19]; 14. 29-Harrison Kleven[18]; 15. 17-Nicholas Klein[21]; 16. 34-Blake Beckwith[23]; 17. 6B-Andy Baugh[24]; 18. 53-Aaron Schuck[4]; 19. 59S-John Smith[15]; 20. 10-Denny Smith[20]; 21. 10A-Tommy Colburn[17]; 22. 1W-Robby Wirth[12]; 23. 15C-RJ Corson[14]; 24. 40-Jace Sparks[11]
Heat 1 8 Laps | AutoMeter
2-Kyle Stark[2]; 2. 55-Todd Kluever[9]; 3. 40-Jace Sparks[4]; 4. 20-Cody Weisensel[7]; 5. 10A-Tommy Colburn[1]; 6. 5K-Kevin Douglas[8]; 7. 29-Harrison Kleven[3]; 8. 57M-Mark McMahill[5]; 9. (DNS) 6-Jeremy Douglas
Heat 2 8 Laps | Simpson Race Products & VMS Rod Ends
19E-Daltyn England[1]; 2. 41-Parker Jones[6]; 3. 53-Aaron Schuck[8]; 4. 18-Tyler Roth[9]; 5. 15C-RJ Corson[5]; 6. 9S-Mike Stroik[7]; 7. 59-Kyle Koch[3]; 8. 17-Nicholas Klein[2]; 9. 53M-Miles Doherty[4]
Heat 3 8 Laps | Behling Race Products
5X-Adam Taylor[2]; 2. 40JR-Dave Collins Jr[4]; 3. 7-Brian Peterson[8]; 4. 1W-Robby Wirth[6]; 5. 59S-John Smith[5]; 6. 10-Denny Smith[3]; 7. 34-Blake Beckwith[7]; 8. 6B-Andy Baugh[1]
Race Awards
CarTopia Hard Luck Award: Jeremy Douglas
Spankins Motorsports Rookie of the Race: Parker Jones
Oliver Motors Last Place Bonus: Jace Sparks
ASM Performance Hard Charger: Andy Baugh
---
Article Credit: Zack Krueger
Back to News