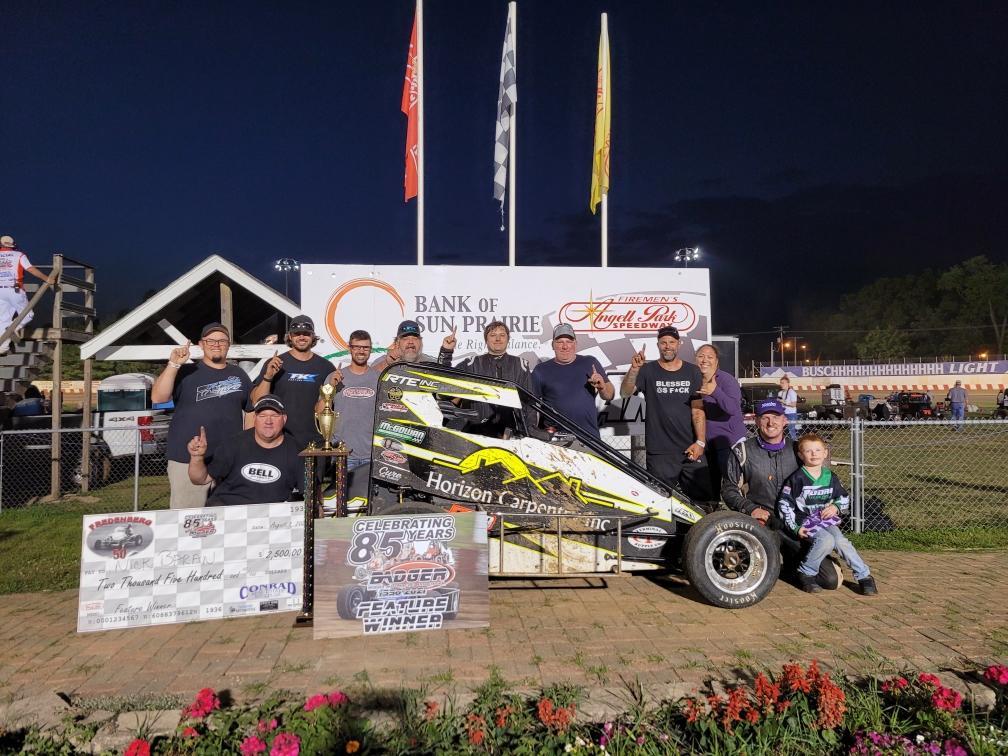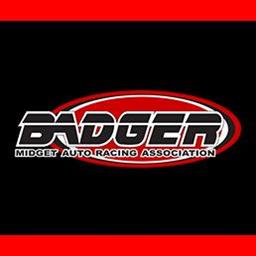 8/2/2021
Badger Midget Auto Racing Association
---
"Baran Victorious in Fredenberg 50"
August 2, 2021, Sun Prairie, WI-- Since 1964 Angell Park Speedway and the Fredenberg family have honored the 1956 champion Al Fredenberg Sr. with a 50 lap feature annually up through the 2013 season when Darren Hagen won the last running. Sunday night, the tradition returned and witnessed Nick Baran capitalize on a very difficult night.
Series point leader Chase McDermand set quick time in Schoenfeld Headers qualifying to top the field of 35 Midgets. McDormand's night was short-lived as he took a slow roll at the beginning of the A-Main ending his night and the driver was okay.
Former modified champion Matt Recheck found his way to victory lane with a win in the Madison Extinguisher Service Non-Qualifier race. Andy Baugh jumped out to a big lead early in Auto Meter Heat #1 and never looked back to score another preliminary win. Adam Taylor won Simpson Race Products Heat #2 Simpson and two-time Pepsi nationals winner Zach Daum, driving for former series champion Robbie Ray, picked up Behlings Race Equipment Heat #3.
Twenty cars were fighting in the B-Main for the final nine spots for the Fredenberg 50. Todd Kluever wasted no time jumping out to an early lead and never looked back leading all ten laps en route to the win. Kurt Mayhew, Kevin Battefeld, RJ Corson, Zach Boden, Mike Stroik, Mike Unger, Kyle Koch, and Charlie Kunz all transferred to the A-Main.
The Fredenberg 50 began with Aaron Muhle and Andy Baugh leading the field to the green. Baugh jumped to the lead on lap one bringing the Rave Motorsports machine driven by Daum with him. Dry slick conditions made passing a timing game allowing the leaders to step away into their own battle while the field jockeyed for position. Baugh would lead the first 20 laps before giving way to Daum as they worked lap traffic. Baugh caught a huge break when the caution flew at the halfway point as he suffered a flat right rear just before the yellow. At the break, it was Daum leading Adam Taylor, Baugh, and the Baran Brothers Nick and Tyler. With teams making final adjustments and changing tires, some teams were beginning to worry if they had made the right call on tire compound or if they too would fall short due to tire wear. When action resumed, it was all Daum and it looked as if the Pocahontas, IL driver was heading to victory lane when his engine began to sputter with just five laps to go. Taylor climbed Daum's tail tank and Taylor fell victim to a flat right rear. Baugh suffered his second flat right rear tire along with a few other tire wear victims which forced a couple of late-race restarts which proved to be fatal for Daum's winning effort. On the final restart, Daum drove away by several car lengths and as he entered turn 3 for the final time, his right rear shredded. Daum tried desperately to limp his wounded machine across the line but as they exited turn 4 Nick and Tyler Baran slipped through to steal a 1-2 finish with Nick etching his name into Fredenberg history with the thrilling win. Daum rolled across the line 3rd with Aaron Muhle and Kevin Douglas rounding out the top 5.
Howard Law Cash Draw Winner: Jim Fuerst
Advanced Race Suspension Hard Charger: Charlie Kunz
Badger Midget Series Points: 1. Chase McDermand 1189; 2. Zach Boden 793; 3. Kyle Stark 745; 4. Lamont Critchett 706; 5. Mike Stroik 655; 6. Andy Baugh 633; 7. Kevin Olson 603; 8. Kyle Koch 548; 9. Kevin Douglas 543; 10. Harrison Kleven 501
Stay tuned to BMARA.com and the BMARA Racing Facebook page for additional announcements and information regarding events for the 2021 season.
35 Midgets
Lap Leaders: Andy Baugh 1-20, Zach Daum 21-49, Nick Baran 50
A Feature 50 Laps | 1. 11N-Nick Baran[6]; 2. 11T-Tyler Baran[8]; 3. 3-Zach Daum[3]; 4. 24M-Aaron Muhle[1]; 5. 5K-Kevin Douglas[10]; 6. 9KKevin Olson[12]; 7. 55-Todd Kluever[16]; 8. 31B-David Budres[4]; 9. 20-Cody Weisensel[11]; 10. 15C-RJ Corson[19]; 11. 27-Charles Kunz[24]; 12. 71-Kyle Koch[23]; 13. 9S-Mike Stroik[21]; 14. 28-Jim Fuerst[15]; 15. 42-Kevin Battefeld[18]; 16. 29-Harrison Kleven[14]; 17. 21K-Kurt Mayhew[17]; 18. 5X-Adam Taylor[13]; 19. 57-Jack Routson[7]; 20. 51-Zach Boden[20]; 21. 2-Kyle Stark[5]; 22. 6B-Andy Baugh[2]; 23. 40-Chase McDermand[9]; 24. 76-Mike Unger[22]
B Feature 1 12 Laps | High Performance Lubricants 1. 55-Todd Kluever[2]; 2. 21K-Kurt Mayhew[8]; 3. 42-Kevin Battefeld[3]; 4. 15C-RJ Corson[5]; 5. 51-Zach Boden[11]; 6. 9SMike Stroik[4]; 7. 76-Mike Unger[1]; 8. 71-Kyle Koch[10]; 9. 27-Charles Kunz[12]; 10. 8-Jake Goeglein[15]; 11. 14-Lamont Critchett[6]; 12. 31-Shay Sassano[14]; 13. 10-Charlie Spoonmore[16]; 14. 98-Jordan Nelson[7]; 15. 4-Brad Hensen[18]; 16. 77-Ken Hanson[17]
Non Qualifier 8 Laps | Madison Extinguisher Service 1. 5R-Matthew Rechek[1]; 2. 31-Shay Sassano[2]; 3. 8-Jake Goeglein[4]; 4. 10-Charlie Spoonmore[6]; 5. 77-Ken Hanson[5]; 6. 4-Brad Hensen[3]; 7. 40JR-Dave Collins Jr[8]; 8. 15Z-Jeff Zelinski[7]
Heat 1 8 Laps | Auto Meter 1. 6B-Andy Baugh[6]; 2. 31B-David Budres[7]; 3. 28-Jim Fuerst[1]; 4. 5K-Kevin Douglas[4]; 5. 11N-Nick Baran[8]; 6. 42- Kevin Battefeld[5]; 7. 14-Lamont Critchett[9]; 8. 6-Jeremy Douglas[3]; 9. 27-Charles Kunz[2]
Heat 2 8 Laps | Simpson 1. 5X-Adam Taylor[2]; 2. 11T-Tyler Baran[9]; 3. 29-Harrison Kleven[1]; 4. 24M-Aaron Muhle[4]; 5. 9K-Kevin Olson[3]; 6. 55- Todd Kluever[8]; 7. 15C-RJ Corson[5]; 8. 21K-Kurt Mayhew[6]; 9. 51-Zach Boden[7]
Heat 3 8 Laps | Behlings Racing Equipment 1. 3-Zach Daum[6]; 2. 40-Chase McDermand[9]; 3. 57-Jack Routson[8]; 4. 20-Cody Weisensel[3]; 5. 2-Kyle Stark[7]; 6. 76- Mike Unger[1]; 7. 9S-Mike Stroik[2]; 8. 98-Jordan Nelson[4]; 9. 71-Kyle Koch[5]
Qualifying | Schoenfeld 1. 40-Chase McDermand, 16.411[30]; 2. 11T-Tyler Baran, 16.464[21]; 3. 14-Lamont Critchett, 16.468[5]; 4. 57- Jack Routson, 16.477[10]; 5. 55-Todd Kluever, 16.541[7]; 6. 11N-Nick Baran, 16.568[31]; 7. 2-Kyle Stark, 16.577[6]; 8. 51-Zach Boden, 16.593[35]; 9. 31B-David Budres, 16.650[22]; 10. 3-Zach Daum, 16.666[4]; 11. 21K-Kurt Mayhew, 16.739[24]; 12. 6B-Andy Baugh, 16.791[32]; 13. 71-Kyle Koch, 16.896[1]; 14. 15C-RJ Corson, 16.937[15]; 15. 42-Kevin Battefeld, 16.947[2]; 16. 98-Jordan Nelson, 16.947[9]; 17. 24M-Aaron Muhle, 16.949[13]; 18. 5K-Kevin Douglas, 16.955[16]; 19. 20-Cody Weisensel, 17.061[8]; 20. 9K-Kevin Olson, 17.065[12]; 21. 6-Jeremy Douglas, 17.086[18]; 22. 9S-Mike Stroik, 17.117[20]; 23. 5X-Adam Taylor, 17.136[27]; 24. 27-Charles Kunz, 17.151[33]; 25. 76-Mike Unger, 17.370[34]; 26. 29-Harrison Kleven, 17.409[17]; 27. 28-Jim Fuerst, 17.422[14]; 28. 10-Charlie Spoonmore, 17.514[28]; 29. 77-Ken Hanson, 17.539[3]; 30. 8-Jake Goeglein, 17.651[11]; 31. 4-Brad Hensen, 17.657[23]; 32. 31-Shay Sassano, 17.694[19]; 33. 5R-Matthew Rechek, 18.192[29]; 34. 15Z-Jeff Zelinski, 18.192[25]; 35. 40JR-Dave Collins Jr, 18.192[26]
---
Article Credit: Matt Vaade
Back to News